Services
PREFACE 
Once you have been approved for services by the Office of Disability Services (ODS), we will send you a welcome letter and request that you contact our Accommodations Coordinator to schedule an orientation. The coordinator will explain how your services work and how to access them through AIM.
NOTETAKING ACCOMMODATION 
Students approved for note-taking services will use the Sonocent Audio Notetaking program to take notes in class.
What is Sonocent Audio Notetaking?
What is the Sonocent Companion App?
For Sonocent Users
ALTERNATIVE TESTING ACCOMMODATION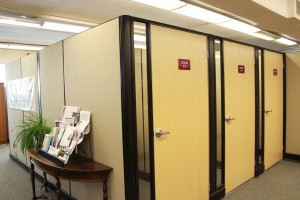 There are many variations to Alternative Testing for students registered at ODS and approved for Alternative Testing accommodations. Some students may receive one or more of the following accommodations….
1.5 times the regular amount of time
2.0 times the regular amount of time
Room Alone
Limited Distraction
Computer
Calculator
Reader
Scribe
Before a student can schedule an alternative test, the student and professor must fill out a testing contract for the class. One testing contract will cover all the exams or tests offered in that class. Alternative test must be scheduled through the AIM system within 5 BUSINESS days notice. Alternative tests should be scheduled at the same time the class is taking the exam, unless the professor has indicated on the testing contract otherwise.
BOOKS IN ALTERNATE FORMAT (E-Book) 
When you are approved for this service, we will ask you to fill out this form: Alternative Format Request (updated) and submit your books to us two weeks before the term begin. We will then change the book into a format that is suitable for you. Some of the formats that we alternate the book into are:
Audio
Word/PDF Format
Braille
Large Print
Sometimes the book might be found on bookshare.org and we will need to share some information about you before we can download the book from the website for you.
SIGN LANGUAGE INTERPRETATION & TRANSCRIPTION 
Upon receiving approval, schedule an orientation with the Interpreter Coordinator. Orientation will review the AIM system used for requesting academic accommodations each term.
Submit a request using written from or via email to the Interpreter Coordinator or ODS (ods@wou.edu) for miscellaneous requests.
Academic/Class Requests: Students should request interpreter/transcription four weeks prior to the start of each term. Students should understand that requests made with less than four weeks notice may be difficult to fill. Late requests will be handled in the order they are received.
Miscellaneous Requests: A minimum if three business days prior to the event is required for scheduling interpreter/transcription services. Examples: guest speakers, division meeting, meeting with faculty, tutors, advisors; counseling appointments, club meetings, etc.
ADA FURNITURE
ODS places furniture throughout campus in classrooms and at different venues to provide an accommodations for students that have provided ODS documentation that the furniture is a disability-related need.
Tables and chairs are placed in classes for student use by ODS. These tables and chairs are different than what is normally found in classrooms. Many times chairs are padded and resemble furniture that would be found in an office rather than a classroom. ODS also provides furniture for transcribers and interpreters if needed.
If you are a faculty or staff member and need ADA furniture for a classroom, please contact Human Resources.
OFFICE OF DISABILITY SERVICES
Voice: (503) 838-8250 | VideoPhone: (503) 512-5258 | Fax: (503) 838-8721 | E-mail: ods@wou.edu | Location:
APSC room 405 | Opening Hours: Monday - Friday (8:00AM - 5:00PM)
"If you have a disability that may require some accommodation in order to participate in a Western Oregon University class or activity, please notify the Office of Disability Services at 503-838-8250 or ods@wou.edu at least 3 business days in advance. To request an interpreter, please fill out the
INTERPRETER REQUEST FORM
."