Students
At our conference you will have an opportunity to: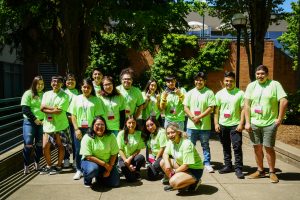 • Attend educational, cultural and leadership workshops.
• Visit with college and career exhibitors.
• Learn about the history of César E. Chávez.
• Celebrate the accomplishments of the Latino and seasonal farm worker community.
CECLC is committed to recognizing your talents and investing in your educational future. Through our art and poetry contest you are asked to share your views on the life and impact of César E. Chávez. On the back of our annual conference t-shirt is the winning art entry from the previous year. The winning art, essay, and poetry entries are highlighted in our conference program.
Our college scholarship program has been an important part of our conference since the very beginning. We are proud to say that we've awarded over $500,000 to deserving Latino high school graduates.
Please read the conference rules here.