CECLC Scholarship
César E. Chávez Leadership Conference Student Scholarships
Thank you for your interest in t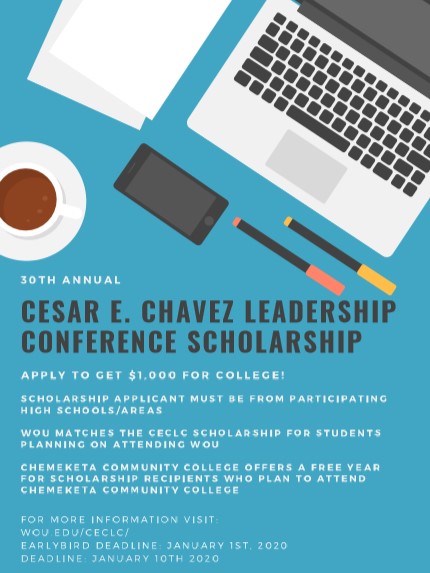 he César E. Chávez Leadership Conference Scholarships. The purpose of the CECLC Scholarship is to encourage and provide students from a Latinx or migrant farm worker background the opportunity to further their academic and technical potential as they prepare to become future leaders. Each year, students who are selected as scholarship recipients are awarded a one-time $1,000 scholarship for higher education. To date, CECLC has awarded over $500,000 in scholarships for high school seniors getting ready to pursue a college degree.
This year, the scholarships process will be completely online. Before applying, please read the following information regarding student eligibility and scholarship guidelines.
Scholarship Eligibility:
Scholarship applicant must be from participating high schools/areas. For a list of participating schools, click here.

Applicant must be from a high school graduating class of 2020

Applicant must be of Latinx ancestry or from a seasonal farm worker family

Applicant must plan to enroll as a student at a two or four year public or private, accredited post-secondary institution in the United States in the fall of 2020
Award:
The CECLC Scholarships are in the amount of $1,000 per selected student. Number of scholarships is awarded pending available funds

The CECLC Scholarship are made possible by contributions from individuals, businesses, organizations, and associations both public and private

The Scholarship Fund is administered by CECLC, Inc., a public, non-profit organization

Western Oregon University, a partner of CECLC, Inc., matches the CECLC Scholarship for awardees planning on attending WOU in Fall 2020.

Chemeketa Community College, a partner of CECLC, Inc., offers a one-year tuition scholarship for CECLC scholarship awardees planning on attending Chemeketa in Fall 2020.
*Click on the image to download flyer (Top: English, Bottom: Spanish)*
Application Checklist: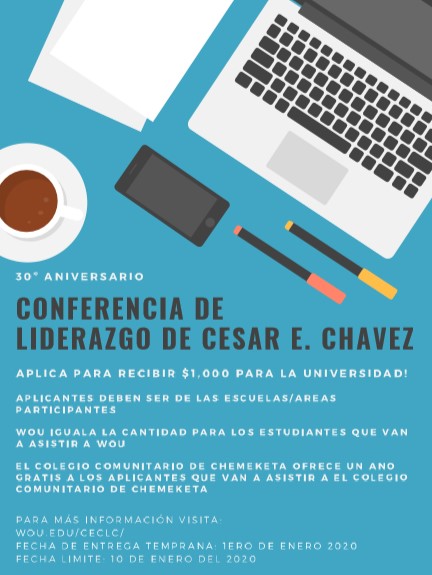 Before beginning the application, please make sure you have all the following information ready. Once you start the scholarship application, you cannot save it and come back to it.
A valid e-mail address

High School ID Number

Migrant ID Number, for students in the migrant program

Answers to the following four essay questions, written in 200-250 words:

Please tell us about your experience growing up as Latinx and/or as a seasonal farm worker.

What has been the most significant lesson you have learned from your involvement in leadership activities, community service, work experience, or extracurricular activities?

What has been the biggest challenge you've faced and what have you learned from it?

In the spirit of Cesar E. Chavez, what is the biggest change or contribution you would like to make to your community?
Submitting your Application:Make sure you have read the "Application Checklist" section above before you start
Only one application allowed per person

Only complete applications submitted will be considered

Application cut-off for EARLY BIRD $500 scholarship drawing is 11:59 p.m. on January 1, 2019.
Click here to access the Application in Google Forms 
Scholarship Application Deadline:
January 10, 2020 at 11:59 p.m.
---