Chaperone Expectations & Information
---
REMINDER: CECLC requires a minimum of 1 chaperone for every 15 students, or 1 chaperone per school (even if they send less than 15 students).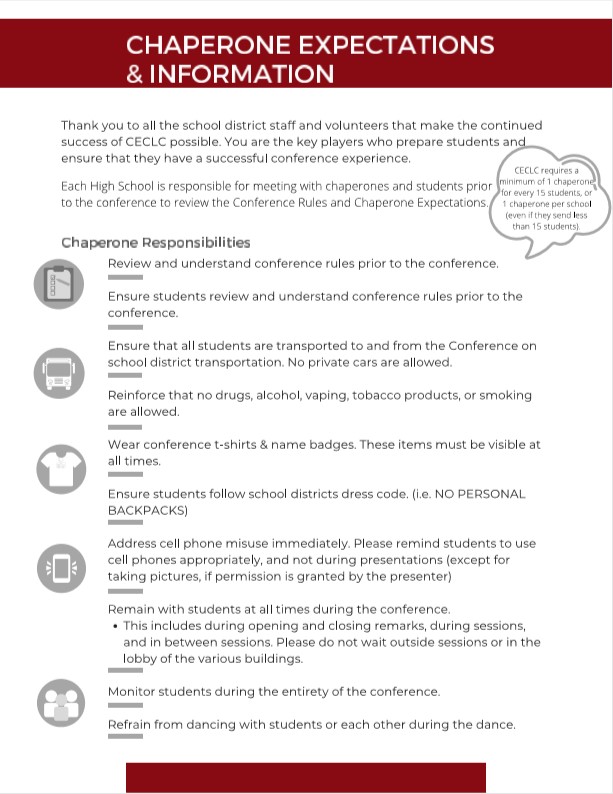 Click the following link for .PDF format to print & save: Chaperone Expectations
---
Click here to see Conference Rules
---
School Bus Arrival/Departure
Buses will be directed to the main doors of the NPE building/gym as they turn onto Church Street.

Conference Volunteers will be stationed at the drop off site and will direct schools into the NPE building/gym.

Buses not staying for the conference can then depart after Students & Staff have unloaded.

Buses staying will be directed across the street to park in Parking Lot G (behind the stadium).

Buses who did not remain on campus, and are returning for their students, should line up along Church Street.

Buses that remain on campus and parked in Parking Lot G will wait for their schools. Students and staff will be directed to Lot G and will load on the bus.
School Check-In & Morning Refreshments
After unloading from the bus, Students and Staff will enter through the main doors of the NPE/gym building. Schools will be directed to take a left, go down the hall, and enter the gym main entrance.

One School Representative (a staff person) needs to Check-In their school, and provide a final count of the number of students and chaperones attending.

The School Check-In Table will be behind the stage, in the Gym.

This is also where schools can pick up any missing student packets/materials.

Students and Staff, upon entering the gym, should go to the morning refreshments area (pan dulce and beverage).

Once everyone has picked up their refreshments, please help students find their seats in the stands as soon as possible.  Please DO NOT have students standing around in the gym while you check in.  Please make sure they are seated first, then send ONE rep to check in and retrieve any missing student packets/materials.

Please note: If your school is late, there is no guarantee that your students will have access to refreshments once the welcome starts.  We understand sometimes school run late due to issues out of their control, however in order to stay on time and be respectful of the speakers on the stage, refreshments are cleared out just before the opening session. 
Questions?
Please contact your area representative with any questions or concerns. You can also email the board at ceclc@wou.edu if you would like additional information.
Thank You
We look forward to a great conference. We want to thank you in advance for all of the assistance you have provided, and will provide the day of the conference!