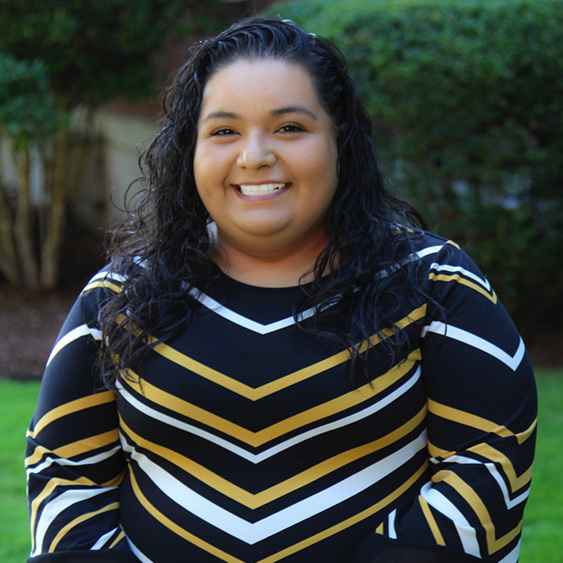 Itsel Venegas Trujillo
Admissions Counselor, Office of Undergraduate Admissions
503-838-8037 | venegastrujilloi@wou.edu | APSC 408
I am so glad that you are interested in Western Oregon University. I am an Admissions Counselor here at WOU. I had the privilege of participating and graduating from the WOU Upward Bound Program as a high school student. Because of the program, I became a first generation college graduate from Willamette University with a Bachelors of Arts. While attending college, I experienced a varying array of extracurricular activities. I became a Student Ambassador for the Office of Admission, sparking a passion of promoting higher education. Since the start of my WOU journey, I have found that my experiences have been similar to those who have attended and graduated from WOU. Being a small university, WOU has helped many student succeed because of the close relationships created here on campus, with faculty and classmates. I am excited to help you, as you start your journey of higher education, and share the many great resources WOU has to offer. Please feel free to call or email me if you have any questions about the college process, WOU campus environment, or any concerns you may have. I will be glad to help you and your family as you begin to pursue higher education.
Schedule an appointment with me: Click here
Oregon Counties:  Polk
WUE States:  California, Arizona, and New Mexico
At Western Oregon Since: 2018
En Español
Estoy muy contenta de que estén interesados en la Universidad de Western Oregon. Soy una Consejera de Admisión. Tuve el privilegio de participar y graduarme del programa Upward Bound de la Universidad de Western Oregon como estudiante de la preparatoria. Debido al programa, soy parte de la primera generación en mi familia para graduarme de la Universidad de Willamette. Mientras asistía la universidad, me involucré en muchas variedades de actividades extracurriculares. También me convertí en Embajadora Estudiantil de la Oficina de Admisión, lo que desató la pasión de promover la educación universitaria. Desde el comienzo de mi trabajo aquí en la Western, he descubierto que mis experiencias han sido similares a las de quienes asistieron y se graduaron de la Universidad de Western Oregon. Por ser una universidad pequeña, hemos ayudado a muchos estudiantes tener éxito debido a las relaciones cercanas creadas aquí. Estoy emocionada de poder ayudarlos y compartir los recursos que la Universidad de Western Oregon ofrece. No duden en llamarme si tienen alguna pregunta.