Part of what's so fun about attending a four-year university is getting to enjoy the big annual events that help make college life great. At Western Oregon University, we have lots of events you can look forward to this year. Here are a few of them.
One of the first big events each year, Homecoming is a week-long celebration of what it means to be a wolf. There's a carnival, decorating local business windows with WOU spirit, galactic roller rink, powerpuff tailgate and game, bonfire pep rally, home football game, and more. Alumni join for events over the weekend, bringing generations of wolves together. Homecoming is the week of October 15 this year.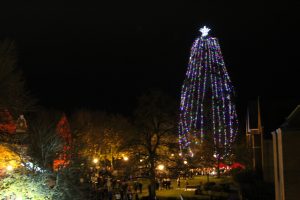 Holiday Tree Lighting
This is one of the most beloved and long-running events on campus. On the Friday before fall term finals week (December 6 this year), the campus and local community come together on Monmouth Ave. and gather around the giant sequoia tree on campus (right in front of Campbell Hall). There's a parade and a local kiddo gets to light the tree. After the tree is glowing, there's lots of music and fun inside Werner University Center (including cookie tasting mmmmm). It's a wonderful way to wrap up your first fall on campus and get ready for winter break.
Over the weekend of January 24, you're encouraged to invite your family to campus for a weekend of fun. This year's schedule isn't ready yet, but in the past years there's been live entertainment, a welcome dinner, games and more. Keep an eye out for registration info.
This highly anticipated annual event sells out, so don't miss your chance to get tickets when it goes on sale. Last year, it was held in April, so keep an eye out in winter term for dates. There's a theme for the show each year and you'll get to see your fellow students (and probably new friends!) performing on stage. The WOU Drag Show is about inclusivity and representation and is sure to be a wonderful time.
This spring will mark the Hawai'i Club's 13th annual lu'au. WOU students spend much of
the year learning and practices dances for the lu'au. Not only will you get a delicious dinner, you'll enjoy Polynesian music, storytelling and culture. Plus, there are some opportunities for audience members to get involved.
Held each spring, this annual event is an evening of amazing food, dancing and music. The best part? The performances are by WOU international students who are sharing a piece of their culture with the rest of campus. The International Club hosts this great event.
Hosted by the Multicultural Student Union, this fun event is a celebration of Latinx music, dance and food. Join campus and community members on a Friday this May (date to be announced) for a fantastic day. The events go from morning to late night for a baile.
This day celebrates all things academic. Students from disciplines all over campus give presentations, show posters and even perform (dance and theatre!) to share what they're working on in their programs. Some students participate through class assignments, others seek out opportunities and work with their professors. You may even be able to get extra credit for some classes if you go. Mark your calendar for May 28, 2020.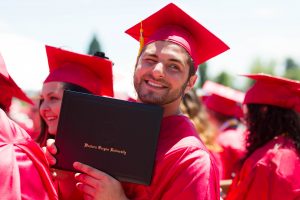 Commencement
Okay, we know you're just getting here and Commencement is probably a couple years away, at least. But it's a huge deal around here and a day that we love to celebrate. You may make friends this year who will graduate in the spring and you'll be able to support them. The energy on Commencement day is a fantastic motivator to help you keep your eyes on the prize and prepare for your own Commencement. The 2020 Commencement is on Saturday, June 13.
This is just a few of the events you'll get to enjoy this year. Which are you most excited for?