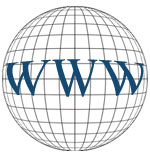 Welcome to Western Oregon University's portal to online course materials. Whether you are taking a fully online class, a hybrid course, or a traditional face-to-face class that also has course material online, this site will act as your gateway. WOU's primary online course management system is WOU Online, which we also call Moodle. However, not all instructors use WOU Online. Some instructors use their own Web page or some other method. If you're unsure, contact your instructor for this information.
Please visit the website of the Division of Extended Programs to see a list of online programs and resources.
The college of Education also offers online courses. For more information about these courses and the web-based MAT program, please call 503-838-8471.
Campus Resources
[top]
Generally, all online course materials are available anywhere you have Internet access. However, if you are using WOU Online (Moodle), a computer on campus, or WOU Email, you must first set up your WOU network username and password (your Pawprint). You may do this three business days after you are officially admitted to WOU.
Go to the Account Lookup page: http://www.wou.edu/accountlookup
Click the link "Set Email and Network Password, and the WOU Acceptable Use of University Computing Resources Policy."
Enter your SS#, your last name, and the secret code word listed in the graphic on that page, then click "Submit."
Follow the steps to setup your new password. Along the way, you will be given your

V number

, your

official WOU email

, and your

WOU network username/Pawprint

. Write down this information for future reference.
If you are certain it has been more than three business days since you were officially admitted, and you are still not able to set your password, then contact Computing Services at 503-838-8925 or stop by their help desk in ITC009.

If your course uses WOU Online (Moodle), your login and password will be the same as your Pawprint login. (Please see the above steps under Campus Resources on how to obtain this information). You can, of course, login to Moodle through the WOU Portal, which logs you into many systems at the same time, but the following method will work even when the portal is down:
Go to http://online.wou.edu
In the upper right corner, enter your

Pawprint/WOU network username and password

. If you have not yet set this up, you will need to go to the Account Lookup site and do so before you can proceed.
You now have access to WOU Online. Most courses are automatically populated with students the first day of the term. Usually, you will not be able to get into your course before this time. Once you've logged in, you should see your course listed under "My Courses" on the left. Click the link and enter your course.

Most of the time that's all you need to do. However, if your course doesn't show up, you may need to enter it manually using the following steps:


Click on "All Courses" on the left. Click on the appropriate course category for your course.
Find your course link and click on it.
In almost all cases, you will be asked for an "enrollment key," or course password. If you don't have the enrollment key, you need to contact your instructor. If you're not sure how to contact your instructor, try the WOU Search page: http://www.wou.edu/core_features/findit/.
Once logged in, consider clicking your name in the upper right and updating your profile, which will allow you to add some information about yourself and even upload a picture of yourself. This information is not available to anyone outside your course. If you have problems accessing the course content, please contact your instructor first.
Possible Problems:
You are not able to login to WOU Online.

Have you setup your WOU network username and password? If not, please see the section above under "Campus Resources."

You are able to login to WOU Online, but the course is not there.

It is highly likely that your instructor has not yet made the course material available. Many instructors do not do so until right before the start of the term. Contact your instructor for more information.
You're having other issues with WOU Online. If you're not sure if your system is up to date enough, please see the Student System Requirements page.
Getting Help
If you're having problems, training and assistance with online classes is available to students, faculty, and staff in the Technology Resource Center, located in ITC204. You may also call 503-838-8965 or email trc@wou.edu. Faculty interested in using a course management tool should also contact the Technology Resource Center.
If you are having technical difficulties with a WOU computer, or if you have gone through the Account Lookup steps without success, please contact Computing Services, located in ITC009, at 503-838-8925. Please note that Computing Services offers limited support for machines not maintained by WOU.